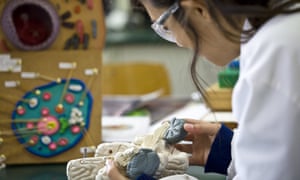 In 2009 Peter Hutton, then the principal of a struggling state school in the suburbs of Melbourne, decided the only way to arrest falling enrolments was to change the way students learnt.
So Hutton did something which, following the release of the second Gonski report nine years later, is being treated as radical.
Hutton abolished year groupings at the school, switching Templestowe College from a traditional "horizontal" structure where students learn based on age groupings to a "vertical" one, where 15-year-olds work alongside 17-year-olds based on their own subject choices and level of ability.
The benefits, Hutton says, were dramatic. Enrolments lifted from 300 students in 2010 to 1,009 in 2017, while parent satisfaction and student engagement numbers all rose dramatically. Other unexpected benefits also appeared. Hutton says bullying disappeared from the school in part because competition was taken out of the learning equation.
Sign up to receive the top stories in Australia every day at noon

Templestowe's story has increased relevance following businessman David Gonski's call for an end to the "industrial model" of school education and a shift to a curriculum based on "learning progressions" independent of year or age groupings.

The states, unions and federal Labor's education spokeswoman, Tanya Plibersek, have all said that while the call for change is welcome, the increased focus on individual learning proposed in the report will mean the commonwealth will have to lift funding.

But Hutton says the opposite is true. He says doing away with year groupings increases efficiency because teachers are no longer required to waste time trying to teach a rigid curriculum to a class full of students at varying developmental levels.