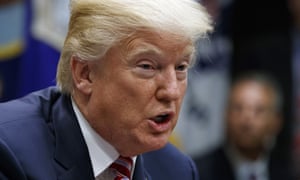 Donald Trump took aim at Democrats and an immigration lottery program in the wake of the New York terrorist attack on Wednesday morning – prompting accusations he was immediately politicising the tragedy.
"The terrorist came into our country through what is called the 'Diversity Visa Lottery Program,' a Chuck Schumer beauty," the US president posted at 7.24am ET, referring to the Democratic Senate minority leader, a fellow New Yorker. "I want merit based."
Trump was apparently responding to unconfirmed media reports that Sayfullo Saipov, the alleged attacker, had entered the US from Uzbekistan under a programme called the Diversity Immigrant Visa Program.
Also known as the green card lottery, the state department programme grants 50,000 visas each year to people from parts of the world with relatively low immigration rates over the previous five years. Schumer was one of the architects of the plan in 1990 and it took effect in 1995.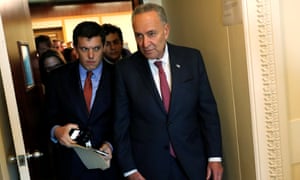 Trump followed up with a reference to the Fox News show Fox and Friends, which he is known to watch regularly and has a reputation for amplifying his views: "We are fighting hard for Merit Based immigration, no more Democrat Lottery Systems. We must get MUCH tougher (and smarter). @foxandfriends".
And in a third tweet he had another dig at Schumer: "'Senator Chuck Schumer helping to import Europes [sic] problems' said Col.Tony Shaffer. We will stop this craziness! @foxandfriends".
Schumer, an old verbal sparring partner of Trump who has lately attempted to make policy deals with the president, issued a statement in response. "I have always believed and continue to believe that immigration is good for America," he said. "President Trump, instead of politicising and dividing America, which he always seems to do at times of national tragedy, should be focusing on the real solution – anti-terrorism funding – which he proposed cutting in his most recent budget."
He added: "I'm calling on the president to immediately rescind his proposed cuts to this vital anti-terrorism funding."
Schumer has previously criticised Trump's 2018 budget for proposing cuts worth more than $300m to grant programmes run by the Department of Homeland Security aimed at terrorism and violent extremism preparedness and prevention.
Eight people were killed and 11 wounded when a motorist – identified by police as Sayfullo Saipov, 29, from Uzbekistan – ploughed a pickup truck down a crowded bike path along the Hudson River in Manhattan on Tuesday, before being shot by a police officer. It was the deadliest terrorist attack on New York since the terrorist attacks of 11 September 2001.
The Diversity Visa Lottery has been a frequent target of rightwing politicians and commentators. Sebastian Gorka, a former White House aide, tweeted about the suspect on Tuesday: "He 'won' his visa under the Diversity Lottery program introduced by none other than @SenSchumer."
Trump supports legislation to scrap and replace it with a "merit-based" immigration system. He has previously used the threat of terrorism to justify his travel ban on several Muslim majority countries and his plan to build a wall on the Mexican border.
Officials have said the attacker is an immigrant from Uzbekistan who came to the US legally in 2010 but they have not announced whether he came in through the Diversity Immigrant Visa Program.