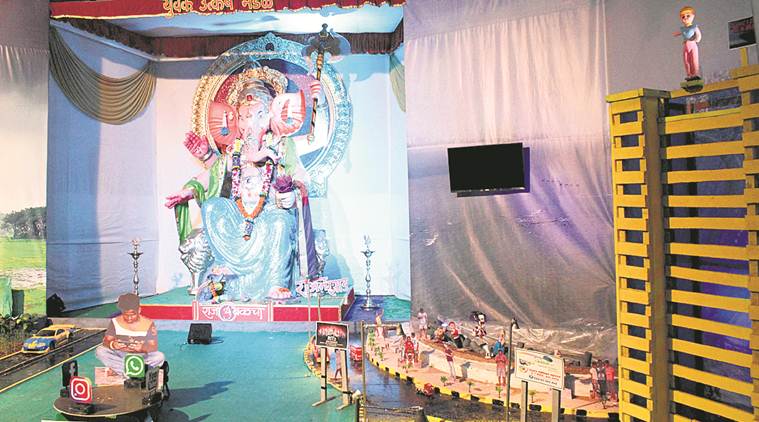 Yuvak Utkarsh Ganesh Mandal highlights cellphone addiction, Blue Whale challenge at Malad Malwani. Ganesh Tendulkar & Kevin DSouza
AIMING to create awareness against the "addiction" of youth to cellphones and the internet, some Ganesha mandals have picked themes portraying how over dependence on technology abuses inter-personal relations. While the Yuvak Utkrashta Mandal in Malvani, Malad, erected a set depicting the dangers of taking selfies, the Riddhi Siddhi Mandal in Andheri drew attention to the online game, Blue Whale Challenge, that has claimed several youngsters' lives in recent weeks.
"We wanted to inform people of the ills of using mobile phones and technology in a wrong way. We have also tried to highlight the apathy of people when they come forward to take snapshots of someone who dies in an accident but fail to lend a helping," said Manoj Sagar from the Malvani mandal.
The decoration also touches upon the loss of the human touch in connecting with the loved ones. "Birthday wishes and warm greetings, earlier communicated in person, are now given by sending a text message or on social media. Words like 'Rest in Peace (RIP)' suffice for condolences. We ensured each one who visits our mandal gets this message," Sagar added.
One manual has drawn attention to the death of a 14-year-old boy in Andheri allegedly after he took the Blue Whale Challenge. "We have used live performances and audio-visual techniques to stage plays around the theme. As the teen who died was from our area, we wanted to highlight the dangers of playing this game," said Dinesh Chandikar of the Riddhi Siddhi Mandal in J B Nagar, Andheri (East).
The play portrays a teenager who is addicted to the game and is about to end his life. He is interrupted by warrior king Shivaji, who talks about the challenges he had to overcome as a youngster.
["Source-indianexpress"]