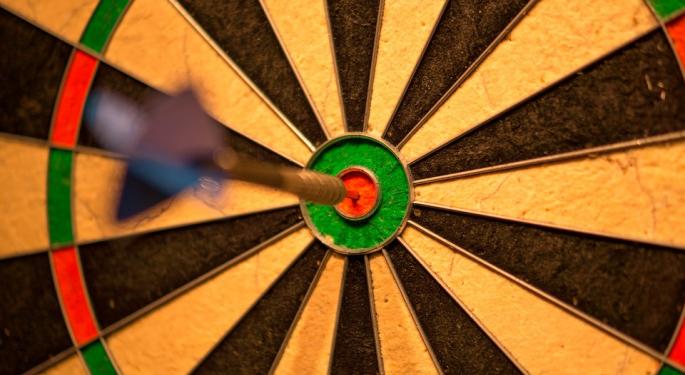 Price targets. Every investor should have them, at least in some form, and if you don't you should. Price targets help you keep track of an investment, and can be a key signal in determining when to exit a position.
While some veteran traders may lay claim to a sixth sense for picking price based on chart trends, for the majority of traders, landing on an exact buy or sell price involves research and the informed opinion of Wall Street analysts. Essentially, analyst price targets aim to forecast what a stock might be worth after a certain span of time, usually a year to 18 months. While the hit/miss ratio of these targets is not 100 percent, the majority of forecasts among sell-side analysts meet or exceed the target within 12 months.
As an example, let's look at FinanceBoards' Target Price History widget to survey some of the analyst forecasts issued for Campbell Soup Company CPB 0.77%, which is set to report earnings on August 31 before the bell.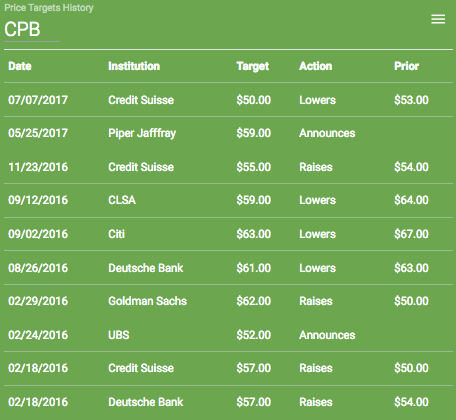 The widget compiles price target announcements from the all of the major sell-side analysts over the preceding 18 months. Additionally you'll notice each analyst's prior target as well as the relative action of their forecast listed to the right of the current target price.
Taken alongside Campbell's stock chart and earnings calendar over the past year-and-a-half, which you can see in a pair of widgets below, most of the targets have been hit within a one-year timeframe and most of changes occurred around the company's quarterly revenue reports. However, you'll also notice a fair amount for fluctuation within that time-frame and a few changes from the analysts with Deustche Bank and Credit Suisse.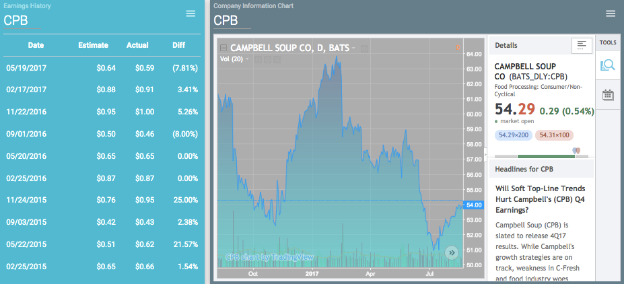 While analyst opinions are based upon some level of earned expertise, they are still only forecasts. By that metric, they can only be expected to reflect the best information available to analysts through contemporary indications like company guidance, cash-flow and industry strength trends.
However, the issuance of price targets can serve as a bellwether or even a catalyst for change on a stock's on share price. The utility of such changes will vary based on the track record and influence of the broker analyst making the call. For example, big banks like Goldman Sachs and JP Morgan are known to have influential ratings on stocks.
Regardless of how price targets are implemented, keeping track of analyst price targets can be a great way to stay on top of a trade.
Source:-benzinga